An improved ONE WAY truss rod design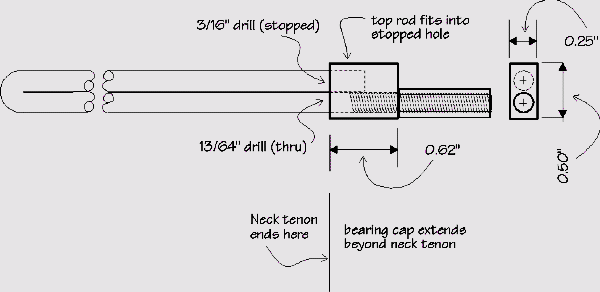 Students wishing to make their own truss rod following instructions in the Chronicle Press soft-cover GTT editions should take note of this improved truss rod design. Students wishing a more versatile rod which they however must purchase, go here. This one-way truss rod improvement features a more massive bearing cap. The cap on the rod design pictured in diagram 4-16 page 55 simply did not grab the top rod adequately, and tended to distort and tip under load. This new design should reduce rod distort ion in the cap area. Wrap the rod with gummed foil as in diagram 4-16 in the book. The new truss rod will interfere with the soundboard when entering the neck tenon into the body mortise, so you must make a minimally adequate slot in the soundboard to clear. NOTE: The diagram shows the bearing cap extending beyond the neck tenon. In shorter scale guitars, this might result in insufficient clearance space from the hex nut to the upper transversal face brace to accommodate the particular nut driver that you may have. You should anticipate this possible dilemma. If in doubt, cut the truss rod wire shorter so that the bearing cap actually sits inside the tenon (you may have to carve a widened and deepened space for it if you do so).
Some folks are having a difficult time finding the truss rod nut which I recommend--which is actually known as a Hexagonal Brass Spacer Nut. Here are some alternatives.